We're chartered physiotherapists and we're registered with the Health & Care Professions Council (HCPC).
We know that needing to see a physiotherapist isn't something you ever wish for. We've had our fair share of injuries, and we understand how frustrating rehab can be or how pain can overwhelm you some days.
We want to give you the best possible treatment and advice, which is why we regularly attend courses and lectures and read up on the latest research. But we also want to make your sessions an enjoyable part of your day where you can share the frustration, hopefully have a laugh, and feel there's someone just as invested in you reaching your goals as you are.
We work from two physiotherapy clinics located in Kensington and Green Park, and also provide physiotherapy treatment at home.
Who we work with
London medical consultants
Besides working with private patients either at home or from our central London physiotherapy clinics, we also work with consultants from various hospitals and clinics, and attend their regular lectures.
Sports teams
Royal Navy Orienteering team
Pre- and post-event treatment and support during events
Harrow and Westminster Hockey team
Rehabilitation for injuries and post surgery
Meet the team
Wanting to work with people and being very interested in how we move, Zoe was attracted to studying physiotherapy. After graduating from Brunel University in 2008, she worked in NHS hospitals, the community, and at a private hospital in Hampshire.
She loves helping people get back to doing the things they love, and this motivated her to set up PhysioMotion in 2015. She felt that being able to provide a personalised service which fitted around people's lifestyles was the most efficient way to get people back to full fitness as quickly as possible.
Forever building on her knowledge and skills, Zoe has completed post-graduate courses in pilates, running rehabilitation, women's health, spinal manual therapy, acupuncture and hydrotherapy. She also regularly attends lectures on the latest relevant research. She uses all of this daily in treating injuries, post-op rehabilitation and to assist with musculoskeletal and rheumatological problems.
Zoe took part in performance dance until the age of 22. She now participates in triathlons and is always keen to attempt new physical challenges such as climbing and kick boxing.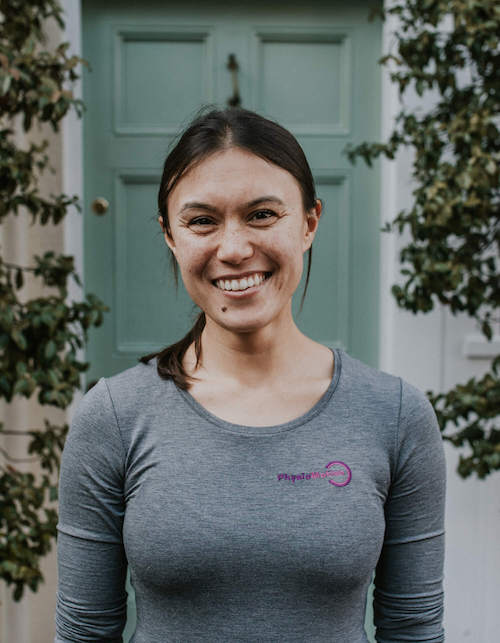 Anjulie has always loved sport. From playing football and basketball through high school, to completing a minor in Human Movement Sciences as part of her Bachelor's degree at the Free University Amsterdam.
Physiotherapy was a natural fit, and since qualifying in 2012, she's built up a wealth of experience at clinics in Amsterdam and London. Alongside treating patients, she's also completed a Postgraduate degree in Sports and Exercise Medicine at Queen Mary University London, as well as courses in sports massage, spinal manipulation, running rehabilitation, animal flow coaching, pilates mathwork, kinesio taping and medical acupuncture.
As a physiotherapist, she always focuses on 'how' and 'why' things happen, and takes a holistic approach to treating sports injuries. This has led her to functional medicine and she continues to broaden her knowledge in this area.
Anjulie joined the PhysioMotion team in 2018. Her exercises of choice are currently strength training and yoga.